Which baby breathing monitor should you get: Monbaby vs Owlet? It's easy to see why this is a critical question because though both monitors are used to track an infant's breathing, one costs $80 while the other costs almost $300.
We've covered a great deal about all types of baby monitors, including single-purpose breathing monitors that are cheap and easy to use. For parents who want more elaborated data about their newborn's vitals, Monbaby and Owlet are among the top options.
In today's article, we will compare the differences between MonBaby Baby Breathing Monitor and Owlet Smart Sock 3 Baby Monitor. This can help you decide which one is the best for you.
As always, you can jump to the COMPARISON section or the PRODUCT REVIEW section directly. Let's get started.
Related Posts:
Our Final Verdict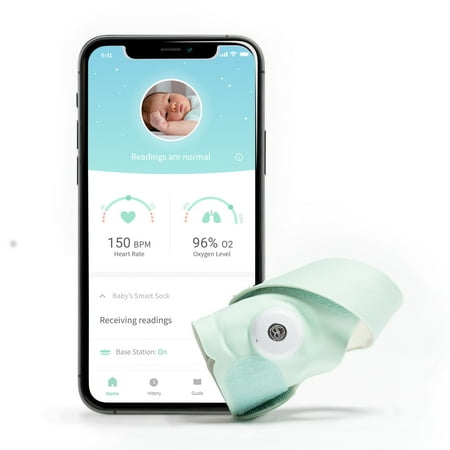 It's rechargeable, accurate, supports Wifi and Bluetooth, and provides more data points.
It's inexpensive, accurate, uses replaceable battery, but range is short.
Who Needs A Baby Breathing Monitor?
Baby breathing monitors only became popular in recent years. As a matter of fact, the first generation of Owlet Sock was launched in 2015.
Baby breathing monitors are used to monitor a newborn's vitals such as breathing pattern and heart rate, and alert parents when the baby might be in danger. It is a device aiming to help prevent infant deaths due to breathing disruption.
What can contribute to disrupted breathing? The potential causes are many: premature birth, pediatric SDB (Sleep-Disordered Breathing), when a baby's nose is covered by blankets or toys, or when a baby sleeps facing down.
Even if you don't have the above concerns but can't stop worrying about it regardless, such devices can give you peace of mind by providing meaningful information.
Types of Baby Breathing Monitors
There are many different types of baby breathing monitors. Some are wearables while some can work directly through the lens. Here are the most popular types of baby breathing monitors that you can buy:
Baby Breathing Monitor Clips. These clip-on breathing monitors can be placed on your child's diaper or pants. They are usually inexpensive, between $50 to $80, and are single-purposed. They don't come with a parent unit or phone app. It flashes and beeps loudly when it cannot detect a child's breathing.
Smart Baby Monitor with Breathing Wearable. This type of baby monitor is a comprehensive monitor that tracks a child's breathing, sleep, movement, sound, or heart rate. They come with a lens to be mounted on the wall or the crib. They require a separate wearable for the baby in order to track breathing patterns. Nanit Plus and Owlet monitors are among the top options.
Smart Baby Monitor without Wearables. This type of baby monitor doesn't require your child to wear extra gear. Instead, it tracks your child's breathing directly through the lens. The most popular example is Miku Smart Baby Monitor.
How to Compare MonBaby vs Owlet Breathing Monitor?
Though MonBaby vs Owlet are both used to monitor a child's breathing pattern, they vary greatly in features and price. How should you compare them? We have listed the most important factors for you to keep in mind when evaluating these two monitors.
Comparison of MonBaby vs Owlet
In this section, we will take a closer look at MonBaby Baby Breathing Monitor and Owlet Smart Sock 3 Baby Monitor. We will then list their core differences and similarities.
So can the 200 dollars of price difference be justified? Let's find out.
1. Tracking Device
Similarities: Both MonBaby and Owlet require a separate device for the baby to wear.
Differences: MonBaby uses a button-shaped tracker that can snap onto the baby's clothes. The clip-on button is a patented invention by MonBaby. The advantage of such a design is that the device is almost contactless. This helps prevent skin irritation or discomfort. Many parents worry if the tracker can get loose easily. The truth is that it's unlikely as an infant doesn't have the strength or dexterity to detach the device.
Some parents mentioned that they left the MonBaby trackers on their babies' cloths during washing and drying but the trackers still work well.
Owlet uses a sock that can wrap around your child's foot. It is more secure comparing to MonBaby. However, the wrap covers a large area of skin on your child's foot, and this can cause skin rashes or excessive sweating. You can put a sock on top of the Smart Sock but not underneath it.
2. Connectivity
Differences: The default connection method of MonBaby monitor is Bluetooth. Many parents like it because Bluetooth doesn't have any radiation. However, there is a range limit of 50 feet or 15 meters. Unless you live in a small apartment, 50 feet is not very helpful for most American families. That's why MonBaby also offers a separate Wifi base to extend the range. Connectivity is one of the biggest complaints about MonBaby by many parents.
The original Owlet Sock first generation is purely dependent on Wifi connections. When the internet is on, the tracking range is decent and the signal is pretty stronger. However, the issue is that Wifi connections are not always reliable. That's why in the current third generation, Owlet Sock added a base station that uses low-energy Bluetooth rather than Wifi. This allows you to continue receiving alerts when your phone is powered off or when the Wifi signals are not available.
3. Alerts
Similarities: Both Monbaby and Owlet will send you an alert when the baby's breathing is not detected.
Differences: Monbaby monitor will send you an alert when a pause in the baby's breathing movement is detected or when the baby rolls over onto her stomach. Both alerts will be sent to your smartphone app. The problem is that the detection of babies rolling over doesn't always work well.
Owlet monitors two metrics: baby's heart rate and oxygen level. An alert is triggered when a baby's heart rate is below 60 bpm or above 220 pbm, and when the baby's oxygen level is below 80% or above 100%.
The unique feature about Owlet is that it also gives you the exact reading of your child's heart rate and oxygen level. This way, you can tell when the numbers are on the lower or higher range even when they are still in the safe zone.
4. Power Source
Differences: MonBaby uses two CR2032 batteries while Owlet is rechargeable.
MonBaby comes with the batteries you need and you can easily find replacements on Amazon or any other store. However, many parents complain that the batteries drain very fast. Some parents say they last three to four days while some say they last only a few hours. It seems true that you will have to buy a lot of backup batteries. So remember to factor in this cost in your budget.
Owlet sock comes with a built-in rechargeable battery. A full charge takes 90 minutes but it can last up to 16 hours. There is an option to quickly charge the sock for 20 minutes and get an 8 hours battery life. The problem with rechargeable batteries is that the battery life reduces over time. Many parents say the full charge lasts around 10 hours after several months of use.
5. Accuracy
Similarities: Both MonBaby vs Owlet Smart Sock are fairly accurate. Some parents even checked the accuracy by using medical-grade pulse machines.
However, we've seen slightly more false alarms from Owlet Sock than from MonBaby.
6. FSA/HSA Eligibility
Similarities: Both MonBaby vs Owlet Smart Sock are approved by the IRS for FSA and HSA reimbursement. You can make the purchase and submit it for reimbursement with the IRS FSA/HSA program.
7. Price
Differences: MonBaby costs around $80 while Owlet costs around $300. The potential accessory you may need to get for MonBaby is the Wifi bridge to extend the range and the replacement batteries. Owlet doesn't require any additional add-ons unless something goes bad.
Which One Is the Best: Monbaby vs Owlet
So which breathing monitor should you get: Monbaby or Owlet?
Both monitors are accurate. Owlet comes with a lot more features but costs much more. MonBaby is inexpensive but the range and battery life are not ideal.
Our conclusion is that Owlet Smart Sock 3 Baby Monitor is the best overall solution. It is more reliable and robust, and can truly help relieve parents' stress by providing meaningful data. After all, the whole purpose of getting a breathing monitor is to keep you in the know reliably.
We recommend MonBaby Baby Breathing Monitor if you are on a budget, can accept a range of only 50 feet, and don't plan to use the breathing monitor for too long as the battery costs can add up.
Product Reviews
---
Comparing to many other inexpensive baby breathing monitors, MonBaby is special because it can connect to a phone app. Sending alerts to the smartphone rather than directly through the tracker can avoid waking up the baby unnecessarily.
MonBaby uses a button clip that can easily put on your baby's shirt. It's not meant to be waterproof but many parents say that their trackers survived washing and drying machines.
What many parents love about MonBaby is that, though an economical option, the MonBaby tracker is as accurate as its expensive counterparts. It even has fewer false alarms comparing to Owlet Sock.
MonBaby runs on coin batteries so that you can replace them quickly. But since the monitor is used for more than 15 hours a day, the battery runs out very rapidly. The good news, though, is that since it doesn't require charging, you can replace the batteries in two seconds and the tracker is ready to be used right away.
The biggest limitation of MonBaby monitor is its range – only 50 feet. This might be ok for small houses or apartments, or parents who share rooms with their babies, but too short for many others. Though Monbaby provides a separate Wifi bridge to address this issue, the review of the Wifi base is not that great.
Who Is It for?
MonBaby Baby Breathing Monitor is an economic option for parents who have limited budget.
Production Specifications
Dimension: 1.5 x 1.5 x 1.5 inches
Weight: 0.19 pounds
Power: Coin battery
Connection: Bluetooth
Range: 50 feet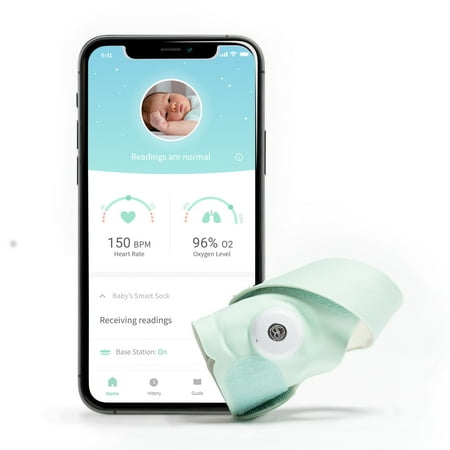 ---
Since its first launch in 2015, Owlet sock has received lots of attention. It is one of its kind to monitor a baby's heart rate and oxygen level – a scientific way to keep parents informed about their baby's health.
Unlike MonBaby, Owlet Sock is connected through Wifi signals. That's why it can cover as far as 100 feet. In case of a Wifi disconnection or if your phone battery dies, the base unit still works and can send alerts when your child's breathing or heart rate is outside the normal range. The base unit works through low-energy Bluetooth signals.
Owlet Sock features a built-in battery that is rechargeable. You can save money on replacement batteries but charging can take a long time. For example, a full charge takes 90 minutes and lasts up to 16 hours. That means you need to remember to charge the sock every day while your baby is awake.
The accuracy of Owlet Sock is almost unbeatable. Many parents compared its performance with medical-grade machines and found the data to be accurate.
Another hidden benefit is that for $100 more, you can get the Owlet Duo Set that comes with the sock and a video baby monitor. This way, you can see your baby via video streaming and monitor her vitals on the same dashboard.
Who Is It for?
Owlet Smart Sock 3 Baby Monitor is for parents who have the budget for a more user-friendly and feature-rich baby monitor.
Production Specifications
Weight: 1 pound
Power: Rechargeable battery
Connection: Wifi and Bluetooth
Range: 100 feet
Final Words
Though MonBaby vs Owlet have their own advantages and detriments, they both can get the basic job done nicely, that is to monitor a baby's breathing and alert parents when a baby might be in danger.
If you are not limited by budget, we recommend Owlet Smart Sock 3 Baby Monitor. Not because it offers fancier features but that it provides a much better user experience. Parents of newborns already have enough to worry about. The last thing you want to deal with is some connectivity issues, dying batteries, or inefficient range.
That is not to say MonBaby Baby Breathing Monitor is not a good product. It delivers excellent accuracy and is easy to use. It is recommended for parents who are on a budget but can live with its shortcomings.
Cecilia Yeung is a successful entrepreneur and product researcher. She has a background in psychology and children's education. As a working mother of two, she loves to write about children's education and development.